Cristina Mathews - Attorney / Abogada
I received my law degree from University of California Berkeley Law with a certificate in Public Interest and Social Justice. I began advocating for workers and consumers as a paralegal for a rural solo practitioner in Pennsylvania and then in the Bay Area as a law clerk at California Rural Legal Assistance, WorkSafe, Centro Legal de la Raza, Legal Aid at Work, and the Consumer Justice Clinic at the East Bay Community Law Center.
I am interested in using the law to support average people's financial security. I do this by helping people protect and expand their rights in the workplace; defend against consumer debt, which so often unfairly burdens people of modest means; and plan in order to protect their assets for the next generation. I am a member of the California Employment Lawyers Association and the National Association of Consumer Advocates.
Before becoming a lawyer, I taught college and high school. I received a B.A. from Yale College and a Ph.D. in Comparative Literature from Stony Brook University. My publications include "Unlocking the Farmhouse Gate," about California farmworkers' access to legal services, and "Frontier State," a short story. I am proud to have served on a school board, raised a barn with my brother, and planted community trees. Among other places, I have lived on a fishing boat (I was a preschooler), and on land in Point Reyes, Pennsylvania, and Orizaba, Mexico. I am glad to now call Fort Bragg home.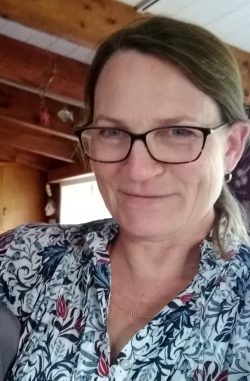 Me gradué de la facultad de derecho de la Universidad de California Berkeley con certificado en interés público y justicia social.  Empecé a abogar para trabajadores y consumidores como asistente legal para un abogado en Pensylvania y luego en la área de la Bahía como asistente jurídico en Asistencia Rural Legal de California, WorkSafe, Centro Legal de la Raza, Legal Aid at Work, y la Clínica de Justicia para el Consumidor en el Centro Legal Comunitario del Este de la Bahía. 

Me interesa usar la ley para apoyar la seguridad económica de la gente normal.  Hago esto por medio de ayudar a la gente en proteger y ampliar sus derechos en el trabajo, defenderse en contra de las deudas de consumidor que son muchas veces un cargo injusto para gente con recursos limitados, y en planear para que sus bienes se conservan para la próxima generación.  Soy miembro de la California Employment Lawyers Assocation (Asociación de abogados de empleo en California) y de la National Association of Consumer Advocates (Asociación nacional de defensores de los consumidores).
Antes de convertirme en abogada, estuve de maestra al nivel universitario y secundario.  Recibí un bachillerato en humanidades del colegio Yale y un doctorado en literatura comparada de la Universidad de Stony Brook.  Mis publicaciones incluyen "Unlocking the Farmhouse Gate" (Abriendo la cerradura del portón del rancho), que se trata de acceso a servicios legales para campesinos en California, y "Frontier State," un cuento.  Me da orgullo haber servido en un comité escolar, levantado un granero con mi hermano, y plantado árboles comunitarios.  Entro otros lugares, he vivido en un barca de pesca (cuando era niña preescolar), y en tierra firme en Point Reyes, California; Pensylvania; y Orizaba, Veracruz, México.  Me alegra hacer mi hogar en Fort Bragg.